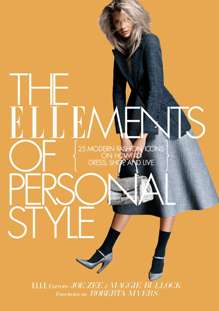 ELLEMENTS OF PERSONAL STYLE: 25 MODERN FASHION ICONS ON HOW TO DRESS, SHOP, AND LIVE by ZEE, JOE;BULLOCK, MAGGIE



List Price: HK$ 285.00





¡@ISBN
9781592405671
¡@Subject
ART, ARCHITECTURE, DESIGN & PHOTOGRAPHY
¡@Publisher
GOTHAM BOOKS
¡@Publication
2010
¡@Edition
Hardcover
¡@Version
Original
¡@Description
America's hottest fashion magazine blends expert advice with in-depth studies of twenty-five unique style icons, from Diane Von Furstenberg to Dita Von Teese to Alicia Keys, for personal style inspiration. The ELLEments of Personal Style gives readers exclusive access to today's most glamorous personalities, along with hundreds of practical tips and inspiring photographs. It also brims with behind-the-scenes interviews, along with commentary on why each icon's wardrobe works.