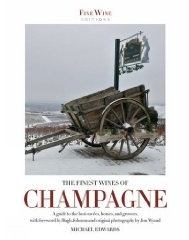 FINEST WINES OF CHAMPAGNE: A GUIDE TO THE BEST CUVEES, HOUSES, AND GROWERS by EDWARDS, MICHAEL;



List Price: HK$ 300.00





¡@ISBN
9781845134860
¡@Subject
FOOD AND DRINK
¡@Publisher
AURUM
¡@Publication
2009
¡@Edition
Paperback
¡@Version
Original
¡@Description
Champagne is the most glamorous of French wines whose popularity has soared over the past decade. Whilst most people are familiar with less than a dozen brands of champagne, there are over 21,000 producers, many of whom market their own vintages. This book is an invaluable guide for people looking to explore the world of champagne.